Name:
Frost Tenka
Nickname:
Walking Glacier / Fro
Age:
17
Gender:
Male
Rank:
Jounin Medical Nin
Former Rank:
ANBU
Village:
Snow Village
Former Village: [For rouges and Travelers their former village]
Affiliations:
N/A
Elements:
Wind, Water,Ice
Kekke Genkai:
Tenka Clan - Arctic Body
Special Traits:
Frost is a Sensory Ninja able to sense and pin point someones chakra even able to tell if they are lieing
Personality:
Frost is a cool, collected, and solitary person, who is quite mysterious. He is portrayed as being somewhere between merely stoic and matter-of-fact, rarely ever smiling or showing emotion at all. He also has a tendency of holding grudges and being rather intimidating, has a very strong sense of connection with his teammates and allies. Also, he tends to restate facts in a more technically correct fashion
Appearance: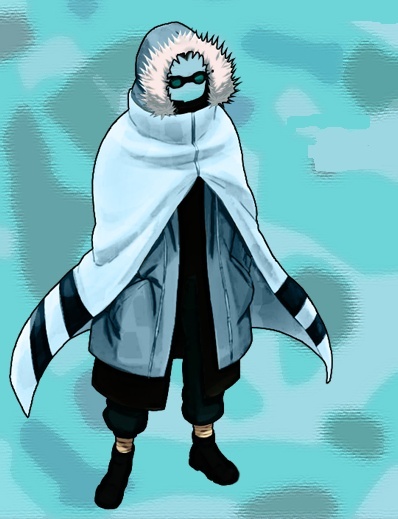 Bio:
Frost was born in the Land of snow just on the outskirts of the snow village in the great Tenka clan the blizzard warriors, by the time he was a year old both his parents were killed during a Ninja war leaving him by himself until he was raised by members of the Tenka clan his uncle in particular who treated him like a son.
Genin arc
Frost became a Genin at the standard age of 12 he was nothing special except that he graduated at the top of his class, he mostly kept to himself making him a mysterious like person to his sensei and team mates, even though his sensei was his cousin and future leader of the Tenka clan Yugito Tenka he was still a solitary person but that did not stop him from functioning properly in the team becoming sort of second in command, with Yugito's help Frost learned better control of his Kekke Genkai as well as Snow Jutsu's in general
Chuunin Arc
Frost and his team mates took part in the chuunin exams when they were 12 years old only almost a half year of being Genins, other Jounin shinobi thought they were not ready but they soon saw their wrongs when they all passed the Exams becoming Chuunin.
Jounin/ANBU Arc
By the Age of 15 Frost had been excelling in his skills as a shinobi and was therefore eligible for taking the Jounin exams which he did and passed very easily, but this was just a front as he was truly given the Rank of ANBU he was Picked by the Snow leader of the time for this honor. Frost was rarely seen in the village because he constantly kept his ANBU status going on several missions all with complete success, Frost was by Far one of the greatest ANBU members in the snow village but after just a Year of being an ANBU member he decided to leave the organization for his own personal reasons.
((Baah im too lazy to make a good long bio..xD))