Name:
Sorai Yotsuki
Nickname:
The Red Flash / So-So
Age:
20
Gender:
Male
Rank:
S-Class Rouge
Former Rank:
Kinkaku Force Captain
Former Village:
The Village Hidden In the Clouds
Affiliations:
Akatsuki
Special Traits:
Is a well skilled Taijutsu master as well as an extremely good tracker noticing slight foot prints picking up the small slightest details and small scents, Sorai is also extremely quick and has an abnormal amount of stamina
Elements:
Lightning, Fire, Earth
Kekke Genkai:
Raidengan
Personality:
Sorai is a very calm and cool person with a slight prankster Attitude he shows un-wavering loyalty to practically no one and is can be shown to be very lazy and complainy at times. Because of the effects of the Mashin Raidengan he has developed a strange rapid change of personality at almost anytime, where he becomes vicious, blood thirsty and sadistic
Appearance:
The first thing people notice about Sorai is his large demon looking blood red eyes he wears bandages around his arms and legs because of his intense training style as well as hiding chakra strings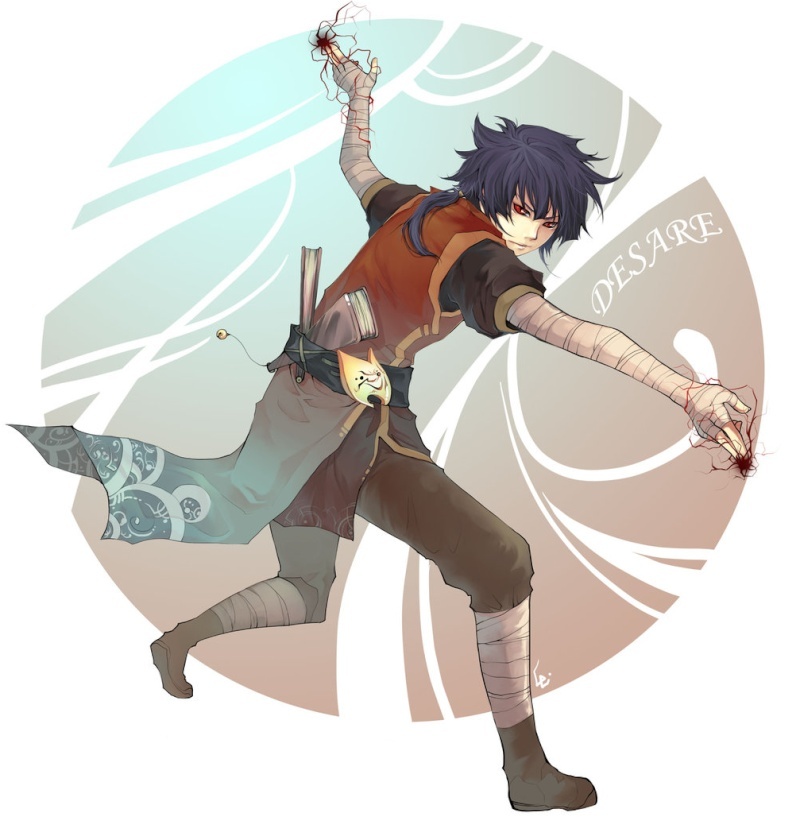 Bio:
Sorai was born and raised in the cloud village apart of the Denkou clan no less but he was not like every one else he was literally born with the 1st stage of the Raidengan, intimidating this birth was Clan elders used every means to find out what was wrong with him but to no avail, never the less Sorai grew up like a normal child but was watched closely by the clan leaders for any changes and also because both his parents were killed during a Secret ANBU mission.
Genin Arc
Sorai became a Genin at the normal genin age of 12 it seemed that nothing would be special about him he passed with average grades and skill nothing more but it was during a C class mission the he showed his true potential it was revealed he had awakened the mature stage of the Raidengan some time before, the clan soon heard about this and began o monitor him closely being born with the Raidengan he was already considered strange but having the Mature Raidengan so early in age was something rare. Two of his Cousins Hei Denkou and Raizo Denkou were his closes family members they were like brothers to him, They were older than Sorai but they were all around hte same skill level and they trained together because of it.
Chuunin Arc
In Just a single year Sorai had become a Chuunin Passing the exams with ease he had become highly skilled in terms of Taijutsu and Ninjutsu thanks to the training he had been doing with his cousins, Eventually however by the time He was 15 One of his close cousins Raizo stopped training with him because he had left the village due to the frequent scrutiny he received from the clan and other people in the village. which lead to him training with He alone which was awkward since Hei was a bit lazy and laid back most the time unlike Raizo who always kept the balance of being serious and kept them from ripping each other's heads off. Eventually Hei began to teach Sorai everything he knew and together they trained and spared intensely but this did not last long as Hei began to distance himself from the clan and Sorai as well.
Jounin Arc
Sorai became a Jounin when he turned 16 years old right on his birthday highly skilled and trained he was more than qualified and began to show natural Leadership skills. Even with out his former master Hei around he kept training on rare occasions Hei would spar with him until one time Hei was nearly out matched and the spar ended in a draw, Sorai proved how powerful and skilled he was that day which lead to The Raikage placing him on the Kinkaku Force to better use his skills.
Kinkaku Force Arc
Being placed on the Kinkaku Force by the Raikage was one of the greatest Honors Sorai had received and soon the Denkou clan began to show respect towards him for the accomplishment, During a highly secretive mission the Kinkaku force was called away from the village. With the 3 month long mission over and the loss of the squads captain Sorai was Appointed new Captain of the Kinkaku force as he was second in command, The Force headed for home and had to confirm Sorai's new position to the Raikage was in place.
Betrayal Arc
After becoming the Kinkaku Force Captain, Sorai began to distance himself from others researching jutsu and what not and began to hunger for power and to have a sufficient challenge, He needed to Obtain one of the Special eyes of the Raidengan to further his skills, The Arashi would be harder to achieve because of its requirements but the Mashin was a different story, Sorai knew of its forbiddeness but did not care, but he could not just kill a Clan member just like that he needed to be smart and so he requested a special mission to track down and kill a man named Tene Denkou who was a rouge ninja of the cloud and a Denkou clan member with a Matured Raidengan, it was perfect, for weeks Sorai searched him out and then found that he had a plan in progress to attack the Cloud village a Plan which Sorai soon foiled Killing Tene and drinking his blood which Activated the Mashin Raidengan. Sorai was cheered and congratulated by fellow Cloud ninja and the Raikage for his protection of the cloud village, but in the shadows the Denkou clan neither cheered or showed gratitude it was no secret that Sorai obtained the Mashin Raidengan as he had used it on a missions the following week, the Mashin was forbidden int he punishment was the re movement of a Clan member's eyes. They called for Sora in the clan hideout on the outskirts of the village and Sorai knew why they called him after a brief discussion in which Sorai showed arrogance and no remorse the elders sentenced Sorai to have his eyes removed. Something Sorai did not plan to have happen to him with out a fight in which he murdered the high elder calling him an ignorant old man and injured the others, Sorai fled the hideout to be followed by the Infamous ANBU member the Black reaper who was also his Cousin Hei, the two fought in a powerful battle being equal with each other, Hei had the Arashi Raidengan but Sorai had the Mashin it was like a battle between two sides of the same coin, the battle ended with Sorai slipping away and months that followed he was already declared a Missin-Nin of the cloud which caught the attention of a group called Akatsuki which he joined right after..