Name:
Raiken Denkou
Nickname:
The Brutal Reaper
Age:
16
Gender:
Male
Rank:
Chuunin
Former Rank:
Traveler
Village:
Village Hidden In The Waterfall
Former Village:
Village Hidden In The Clouds
Affiliations:
Elements:
Raiton(Lightning)
Earth(Earth)
Wind(Wind)
Kekke Genkai:
Raidengan
Personality:
Ken when he was little he had a more aggressive nature then how he currently is, he learned to be alot more patient and quite then before. He acts more responsible then all the other people around him. He is collected in the most worst time. He have a deep passion for fighting into the air, he loves to hold valuable information from everyone else. He lives his life like no one else can understanding everything about life he looks like he doesn't care thats the face he shows everyone.
Appearance: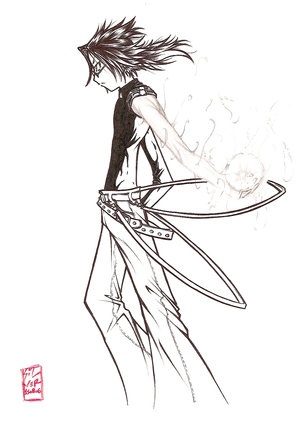 Bio:
Raiken was born on June 10th, on the worse thunder storm the whole year. The clouds went grey and once the birth was successful the storm disappeared almost instantly. The Elders of the famous Denkou clan knew that Raiken was no ordinary member of the Denkou clan. He was the youngest of his mother's an father's children like his brother Hei and sister he was destined for greatness. As a child only rarely but his eyes would flash grey to a member and it would worry some of the clan members.Aggressive attitude towards many others which scared alot of people. At the age of 8 he began his open training but at age 7 he was undergoing early private training. He had no purpose but to be able to fight, at his young age he'd always visit a monument of a certain man in his clan. Who ever this man was he felt he had a bond to him, and when he read his biography he didn't understand what it was at the time. With his training always at the top of his game, when training with someone he always end up landing for a fatal blow. He Surpassed his academy class moving his way to gennin.
Gennin arc:
As a gennin he was expected to grow up a good ninja. But no one knew how he felt. Him being very evil affected the whole squad-more like he was always surpassing them and choose not to stay with the group. He was confronted by his jounin sensei about that problem countless times. He grew more reakless as time went on. At night he did focus and chakra training. He never showed his true power, he choose to only use gennin level techniques. But the Tactics were pure lower jounin level. But with out the chunin exams he was not allowed to pass a rank. His Lightning element was just starting and he was getting pretty destructive, he was called "Young spark" of his movement and production of Lightning. He choose to do a spar with a higher member of the clan. This member knew who he was and Raiken didn't know his opponent was aiming to kill. As the fight went on Raiken felt like his opponents moves were to brutal to be normal and for a spar with a gennin. This battle caused him to activate his first stage of Raidengan, at that moment round 2 started. Raiken seemed to be matching him from a distance but when you look at it closely Raiken is getting smashed everywhere. Once he realize the battle was to death, as he slowly got up another force took over him. Eyes were grey and he had a evil appearance as he appears infront of his opponent then using his left palm sending him into the air and left arm blasting him with a Intense Lightning, it was different because it was gray and his body went flying into the air. Raiken shortly after disappeared from the area and a hour later he was on his way towards the waterfall village with a mission of delivery. But once he got there he desided to stay and live there, After gaining permission to stay in the village the waterfall notified Kumo that Raiken was going to live there. Which angered the Raikage but to avoid full out war he was Classified as a Rouge ninja of the cloud village. So he stayed for a month perfecting the Lightning element and started his new element Wind, progressed to Chuunin.
Chunnin Arc:
As a Waterfall ninja he learned a lot of things he wouldn't have learned inside of Kumogakure. He was doing fine there, he felt that it is where he needed to be. His training was going great, he was training more then his body but everything else. He learned complete focus, he finds out he have another side of him, he learned when he balanced his emotions. And stopped being so evil when he was a gennin. But due to him being a Lightning user and him being so well at it he had ANBU supervising him. At age 14 he activated his second stage of his Doujutsu. But he had to know more, he soon returned back to the cloud trying to sneak in to get to the clan hall and actually managed to get in. He looked at the Doujutsu and history of the clan and found out about the three special eyes of the clan but before he could learn anything else he was found out and was forced to flee. He he went back to the waterfall village then his dark side granted him Grey Lightning, he doesn't understand how to use it but he was soon offered a ANBU position and of course he accepted but he travels so it makes him a traveling ninja of Waterfall.
Rp Sample:
He stared at it like he was a horrible beast.Then when the Image went into a blur state,he keeping his left foot still he move his other foot back dodging the Kunai when he know that he could have caught it.Shortly after the dissappearance of his image he listened to what herm had to say.Next he would walk up closer to herm just abit,only to see him place a blade into the ground.Gale was about 6 yards away.He hearing Herm say "Push yourself"he then closed his eyes and then moved his hands in a motion like he was pushing something down.Then he put about 9 thin layers of chakra into his skin.He slowly with his left arm reached and grabbed the handle of his grasscutter.Pulling out about 5 percent of the blade he speaks."The final task....I shall not fail"After those words were said he flickered off leaving a image there.
first he flickered next to it trying to slash the blade and flickered to the other side of the blade trying to slash at the sword from the right side of his shoulder and he flickered again moving away from the blade trying to run up and impale the sword and the moment he got close he flickered off.Appearing above the blade and was coming down with his sword to slash it and flickered back down to the ground trying to slash the handle of it and After that flickered on another side on his left knee trying to impale the blade,and next he would flickered to the other side trying to slash it uppwards and flickers standing up on another side trying to slash it uppwards as well and flickered 4 yards away then he ran towards it.As he runs towards the sword his sword began to spark with lightning and then he was about to go straight through it but flickered and appeared infront of herm.finally he took a deep breath."done"he said.His arms were down and his grasscutter was in place and his sleves were dancing with the wind.As well as his hair.He made All the images correctly and added alittle to the last one.