Name:
Nue Denkou
Nickname:
The Thunder King / Raven
Age:
15
Gender:
Male
Rank:
Special Jounin
Former Rank:
ANBU
Village:
The Village Hidden In the Clouds
Former Village:
N/A
Affiliations:
N/A
Elements:
Lightning, Water
Kekke Genkai:
Raidengan
Personality:
Nue is intelligent and caring not to mention playful having a smile on his face almost all the time but overall he is fairly serious when he needs to be. Nue is also a well established artist able to sketch something hes seen or an area in just seconds he also has photographic memory.
Appearance:
He has short, spiky lavender hair and dark blue eyes. One thick lock of hair curves back, and he wears a large, black cape over his Fang Armor. His Armor covers the majority of his body; beneath, he is skinny and wiry and covered in tattoos.
In his Cloak:
Under the Cloak the Fang Armor:
Spoiler:
Fang Armor Hyper Mode: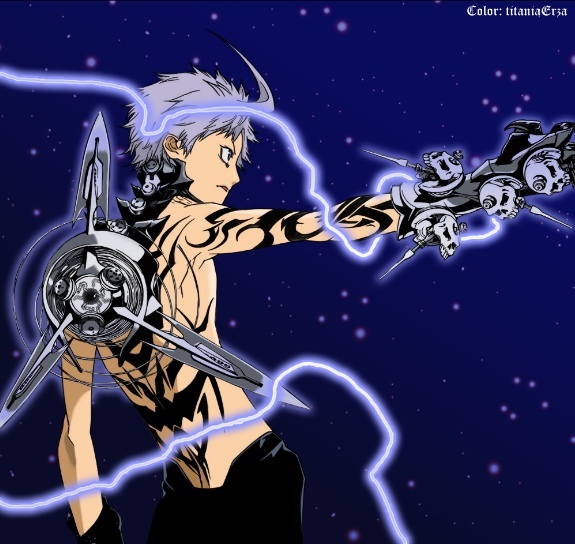 Bio:
Nue was born in the cloud village in the famous Denkou clan and was the younger brother of Sorai Denkou whom Nue soon grew to try and rival, he always wanted to be just like his brother to the point where he even began to dress like him even though this annoyed Sorai some times.
Genin Arc - Nue Graduated from the Ninja Academy at the Age of 12 Becoming a ninja excited him, although it was at his own will, he usually asked Sorai to help him train only to be rejected in a teasing like way. eventually Sorai soon spied on Hei and Raizo his cousins and Sorai is brother while they trained wanting to be just like they were strong, ad skillful, although they eventually caught him, it seemed they were all to busy training to help out Nue which was understandable since he was younger than them, this pushed Nue to ask his father who was an expert in the Special metal called Denki which the Denkou clan had at their disposal. Nue learned about Denki and its strengths and uses very quickly soon he began to help his father use Denki to create clan weapons for the clan and their members, on the side Nue started drawing designs for a special weapon which would make him unique he no longer wanted to be like his brother..
Chuunin Arc - Nue Became a Chuunin at the age of 13 excelling in hi skills with the Denki materials and weapons and even with the use of his Kekke Genkai, he Obtained it during the Chuunin exams fighting off a Leaf ninja triggered it, Nue and his Team Passed with Flying colors granting them the rank of chuunin, it was around this time Nue began distancing himself from Sorai his brother, he had decided to go and walk his own path instead of becoming a copycat. Nue had multiple sketches for his idea of his special Denki Weapon, they were mostly armor and launching mechanisms for Denki cords, the sketches and blue prints surprised Nue's father a lot because of the detail, Nue even began to wear Weights in an effort to train for us future armor.
Special Jounin/ANBU -
Nue became so advanced in his skills and strength as a ninja he was promoted to the rank of Special Jounin, mostly because he developed a special Interrogation technique with the use of his Raidengan which had already matured, Nue's skill with the clan's Denki material soon became well known in the cloud village which led to the ANBU exams, which he passed although he ended up leaving ANBU in just two weeks complaining on how dull and serious it was. At the Age of 14 Around the time of Sorai's Betrayal Nue was devastated by his brother's behavior obtaining a forbidden eye and murdering elders then leaving the village which led to their father already sick to become into dire conditions due to the stress and heart ache. While on his death bed he taught Nue the last secret to complete is armor. In anger after his father's death Nue blamed Sorai for the death of their father and returned back to the Denkou clan District, where he finished his Armor, and dawned a new name the Thunder King of the cloud.