Name:
Sora Shuryu
Nickname:
The Silver Wind
Age:
19
Gender:
Male
Rank:
Jounin
Former Rank:
ANBU
Village:
The Village Hidden in the Mist
Affiliations:
Seven Swords Men of the Mist
Elements:
Wind, Water
Special Traits:
Sensory Nin, has a High Mastery of Wind element
Kekke Genkai:
Watarugan(渡る, Over Cross Eyes)
Personality:
Sora has a Calm cool demeanor and has a gentle personality towards others hating to kill another being but wouldn't stop himself from doing so if needed, he has a strong sense of respect and duty, he may come off as blunt nearly at all times and has a strong concept and knowledge of History and Philosophy. In daily life Sora is a kind person to speak to.
Appearance:
He has a Clean White eye patch on his right eye to conceal his Shidengan, and has the Slepiner with him nearly all the time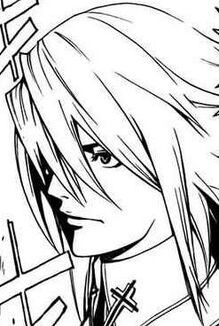 Bio:
Early Arc: Sora was born an orphan in the Mist village both his parents were killed during a village raid when he was only 2 weeks old, luckily however he was born in the Shuryu clan with many family members who all took turns taking care of him, originally he had no name but when he began to walk he seemed fond of the wind and Sky so he was called Sora which means Sky.
Academy arc: Sora went through Ninja academy a normal child nothing special he seemed however serious about his learning on becoming a shinobi always practicing what he learned in class and doing his homework as soon as he got home, it got to the point where class mates called him a teachers pet since he was always the one asking questions and doing well on tests, while he was a good mental student he suffered greatly from physical practice he had poor aim his Jutsus usually failed and his Taijutsu was very poor, he was an A class student in books but out in the field he usually got F's which only pushed him further.
Genin Arc: Graduating the Academy at Age 12 third in his class because of his poor physical abilities, Sora was placed on a team which was led by Fujin Tanaka, one of the Legendary Seven swords men of the mist, his sword was called the Slepiner and he was a master of the Wind element, and Sora saw him as a perfect teacher to help him with his training, it was no secret he was the weak link on his team, and he was only good at thinking out plans and tactical strategies, while his team mates would go home after missions Sora would be out on the training grounds with Fujin training, Fujin had taken Sora under his wing making him his apprentice what Sora did not know was that Fujin did not just make him his apprentice, but thw one Fujin would pass the slepiner unto in the future. By the time Sora was 15 years old both him and his squad had failed the Chuunin exams three times and they were getting ready for another exam, but they were all determined to pass, with the extra training and will power the crushed the competition with ease in the second part of the exam setting a record time which would later be broken by Gaara and his team mates, it was during the third part of the exam that the team suffered heavily both of Sora's team mates loss in the first round even though they fought valiantly. But Sora pushed his way through reaching the Finals where he fought a Stone nin whom had been defeating all his competition with just one jutsu, They battled and Sora went all out but he was no match for the stone nin and was defeated, but due to his skill during the exam both Him and his team mates were promoted to Chuunin.
Chuunin Arc: After becoming a chuunin Sora became more and more ambitious to his goal of becoming one of the seven ninja swords men and after a few months he got to that goal, being trained by his master Fujin one of the Seven it was expected that he would take his place, Fujin was an old man ready to retire at the age of 50. For the final Test Fujin carried Sora to a cliff that was so high in the mountains that when you looked down into it you could actually see clouds, for the test Fujin pushed Sora off the cliff and simply told him to "Fly", such a statement was unheard of Sora could not fly how did his master expect him to, panicking he tryed every trick in the book Sora tries Metal strings, Wind jutsus but they all failed and he fell faster and faster heading to his death, but it was just then he knew what Fujin meant and became peaceful falling with a smile, he had to become one with the wind and with a yell "I..am..THE WIND!" a burst of chakra could be seen unlocking and mastering the first jutsu Fujin ever taught him suddenly he came back to the top of the mountain in a tunnel of wind like a tornado and he landed slowly and gently to the edge of the cliff smiling at Fujin who was smiling back telling him that he passed and handed him the Slepiner.
Jounin/ANBU: Sora through his skill and knowledge as a Shinobi was soon promoted to the rank of Jounin but in actuall truth he was secretly an ANBU squad member performing dangerous high profile missions and assassinations proving worthy of his status as one of the Seven ninja swords men. During a Private war between the Mist and another village he was a valuable asset of the mist village, rumors spread on how he single handedly annihilated one of the enemy villages although this was never proven and was only just a rumor, It was after the Ninja war Sora left the ANBU corps