Kekkei Genkai:
Watarugan(渡る, Over Cross Eyes) - Mature Watarugan: The Doujutsu sees chakra flow, also the brain waves of the user became extremely active increasing speed of thought and thinking rate to a higher level. It can lock unto a person's chakra signature by looking at them tracking their position and movement by means of meters, miles, yards, longitude, latitude and altitude, if the some one uses some sort of clone jutsu while they are already locked the user instantly locks unto those as well even able to tell which is the original, more chakra is used depending on how far and how many people are being locked-on closes for a 10 seconds the Lock is disengaged another feature is the locks targeting which enables the eye to keep track of non chakra objects mentally noting their speed velocity and direction of movement enabling quicker movement for dodging, the eye also sees heat signatures though it cannot lock onto them and can see things from far distances it can also copy wind jutsus by spinning memorizing it perfectly cutting S-Rank training in half. The eye can also see Chakra trails even able to tell of frequency changes. The Watarugan can also see scent trails in the air and ground even able to tell if poison is in the air or on a substance.
Summonings:
Sora has a Contract with Weasels the weasel summonings are in tuned with both Wind and Water chakra natures although weasels that are a bit bigger than Sora and Below in size are only able to use one element each while the Massive Weasels are able to use both. Sora uses combination attacks with these weasels.
His most frequent summon is Kamatari, a one-eyed, sickle-holding weasel,(The one Temari Summons)
Sora summons Kamatari, a one-eyed, sickle-holding weasel, who, after he starts moving, becomes invisible to the unaided human eye. Once summoned, Kamatari creates a torrent of slicing winds capable of cutting down an entire forest in only a few seconds.
Weapons:
Sora has with him a Rain Ninja's mask which he stole after killing one, a summoning seal written on his neck enables quick summoning the mask can be used to breath underwater. and even Filter out poison
Sora Carries with him some Special Kunai's that have Tags wrapped around their handle ( Sort of like the 4th uses for his Speed thingy) The tags act some what like explosion tags but instead of an Explosion releases an Electrical charge enough to paralyze someone in the area struck. When in Conjunction with water it may be enough to kill
Sora As one of the Seven Ninja swordsmen carries with him The Slepiner. A Sword that manipulates and bend wind to a high degree. Its cutting edge with Wind chakra surpasses the cutting power of even High Vibration frequency of lightning chakra which has higher cutting power than Ordinary wind chakra. The sword can produce High levels of Wind strong enough to blow away projectiles or people with a swing. The Sword Also allows the use of Wind jutsus with out any hand signs or just one tho the user must be either touching or extremely close to the sword. When Sora fuses with the sword he is more in tune with the nature of wind even going as far as claiming to be the god of Wind, he is given the ability to fly at will and is able to manipulate wind at a greater degree bending it to his will , Sora is able to fly through the air at high speeds. When fused the sword separates and is attached to his back looking like wings, the wings act like a kind of a defense with a light invisible wind infused chakra shield but the shield is only at Sora's back it follows the principles of the wall of wind jutsu
The Slepiner: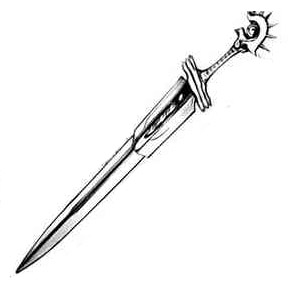 Slepiner Fusion Form:
Spoiler:
Wind Release
Spoiler:
Water Jutsu
Spoiler:
Non Element
Spoiler: