Name: Shion Uchiha
Nickname: The Enemy of Freindship
Age: 19
Gender: Male
Rank: Jounin
Former Rank: ANBU
Village: the village hidden in the mist
Affiliations: Akutskit
Elements: Fire, Water
Special Traits: Sensory Nin, has Hightened eyes
Kekke Genkai: Sharingan
Personality: Shion has a calm almost unshakabley cool demeanor and is rarely if not ever pressured making him a tactical genius, he has a lax sence of right and wrong and insists that those who choose to be ninjas choose a life of hell and regret, He lives to anniahialate any with a bond to him or another. Only the weak depend on the weak.
Appearance: He has a Ambu suit under his akutski robe and still holds the mask of the friend he murdered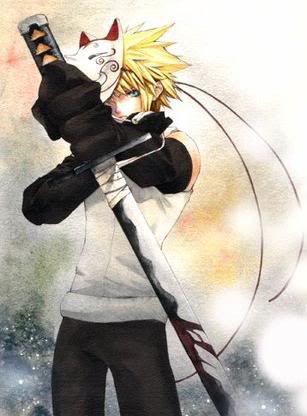 Bio:
Early Arc: Shion grew up in the mist village under special conditions for his ability to figure things out and his very powerfull Genjutsu, He was taken from the leaf as a baby and held for ransom. After the ninjas were paid the 30 000 ryo for the infant shion back they destroyed his parents and brought the child to the mist. Noone could stand to be around him because he was not normal and as such he began to be isolated. He gained one friend who saw past his abnormal skills and made an effort to include him in a few activities.
Academy arc: Shion Studied very lazily as everything became very easy and as such never learned the value of hardwork, Shion aced tests and overly shined in the talent of genjutsu and ninjutsu.He had no real talent for taijutsu but did more than phenominal in weapons training.
Genin Arc: Shion graduated from the academy at age 11 and was well on his way to doing missions, He was put on a team with the biggest jerks from his school they mercicissly teased him, Rumors began to fly about the strange disappearance of a few of the others who made the mistake of letting their mouth go, His team would point the finger at him making working with them an impossible task, Shion was not intrested in fighting with them as he seen it as a waste of time as he would destroy them in every contest or training exercise. It was no secret who the star of the team was when the clients would begin requesting him by name, Shions skills grew along with his bank account till he was making more than most of the chunin leavel ninja, Which he spent on girls he was very mature for his age and would go into bars and pubs all over his village as they recognized him as a great warrior, Shion skills were honed to the point of greatness by the kage and his highest black ops, The kages faith was well rewarded as he was able to send Shion out on the dangerous of missions and he would come through without fail. Shion participated in the chunin exams the following year where he met his best friend in mortal combat. It was the last level of the exams taken place in the hidden rain village. A young ninja named takamiru who could match his mental power their match was a chessmatch with everything at stake.The match ended in a draw when both Shion and taka admitted defeat before passing out. But upon greater examination it was said that taka submitted seconds before shion which gave him the technical win and allowd his rise to chunin.
Chuunin Arc: Shions rise to chunin ran through the mist as well as neighboring countries the young ninjas future looked bright,Fighting and spending it all on women was becoming empty so e took to the road for a few years, He spent his time learning everything there was to know about everything, training with the highest in the land in each field. He returned to the village a much stronger ninja at the age of 13 after training with some of the greatest and his new mentor orichimaru. On another routine mission shions skills were pressed to the limit again and he activated sharingan to finish the fight.
Jounin/ANBU: Shion was eventually recognied as a young high ranking citizen of the mist. When awarded with the title of jonin the council spoke "Hes too reckless" he roundhoused kicked there head into the wall. Shions skills and money were too long for an arguement as he could easilly prove he belonged in the top bracket. Shion was inducted into the ambu inferno squad or black ops later in the fall when a ninja defected from the village and was caught and murdered before he was able to get out of the border.On his missions he learned of a group called the akutski and went to visit them. After much deliberation shion left the mist village and joined the akutski, when taka a member of the inferno squad came after him shion killed him in cold blood ripping the mask from his face He now wears it, It is a bear face missing a ear from where he stusk the kunai through. Shions hatred of freinds and ideals stems from seeing his best freind die at his own hand and has sworn to kill all who holds it dear,
Rp sample
Shion entered the class and was immediatly hit by the sickening stench of failire.This was the class where all the kids not smart enough to be gennin resided.Not only was this shions second time around.But he should have been a chunnin at his current power level he was way stronger then any of the losers who were allready disgracing that rank with their mediocre at best skills.He crushed chips on his way to his desk that was too small for him and his massive ego.Shion was by far the cockiest of all of the students in the entirre academy.He was told more than once of this fact."Why the hell do i have to be here Ishida sensai you know im better than all these losers... my skills are beyond even you jonin"Shion protested with a scowl.
"Well nice to see i have to deal with you Shion, Can you stop complaining for one day"Ishida responded to the impatient child who had pissed off many a jonin his confidence was beginning to become a problem.But it was true his skill was truely undeniable."If not for this fact i would drop this stupid kid from the program so quick" ishida stated under his breath talking to himself."What was that sensai... " shion yelled holding his ear to see if he would repeat it. Ishida snapped back to reality waving him off "nothing nothing" at all thats the last thing i would need is for him to know how highly we value him."Shut up and sit down shion!!!" Ishida yelled
Shion sat down quick as the rest of the idiots in his class laughed."Shut the hell up all of you you all suck not one of you are any match for the great Uchiha hope.The hero of konaha you stupid losers" shion folded his arms and sunk into his seat.Ishida rubbed his head "this kid is going to be the death of me"...Ok class im very proud of all of you not only did you all get the transformation and escape techniques, but you all mastered them and so."the teacher smiled proudly."I am very happy to say I have been given permission to teach you all a technique of real destruction" he continued pulling out a shuriken.Shions eyes pierced the shuriken in his hand with sharingan...hmm he scoffed"This combo was given to us by two young leaf shinobi,one of whom then went awall but the other one" he said with a smile remembering the great hero, and best ninja to date."now watch carefully demon wind shuriken" he whispered as the one shuriken changed some how."Your finally going to teach us a technique thats usefull in some way" shion yelled throwing off the teachers concentration.
"Shion im going to kill you" Ishida growled humourously he in no way hated the young prodigy but found teaching him to be an impossible task.He quickly turned his attention to a child in the 3rd row."Watch out Oaki" he yelled as he threw the shuriken in his direction. The boy got scared and hid under his desk."haha take that oaki you jerk" shion laughed."What" a voice said as he appeared and evaded the shuriken.
"What!!! How could you see me" he asked ,"my technique was flawless" he assured himself.As he spoke he failed to see the shuriken hidden in the shadow of the first, until it was too late. Before it hit the ninja did a handseal and summoned wind to blow it over his head.
"Hah" he said cocky "dont underestimate me" the mysterious ninja started running towards the teacher..nows my chance shion thought if i can stop this guy ill get the recognition i deserve.He waited for his chance to strike when the teaacher made his true move. The teacher appeared behind the intruder coming out of the shuriken."What" the man said as the teacher delivered a staggering kick to his back which made the ninja fly to the front of the class."Hahaha well done Ishida" the ninja said turning into the 10th."Thank you Hokage" the teacher said bowwing. "And that class is the shadow shuriken jutsu, and how about a big hand for our hokage the 10th what a great performance"
The hokage smiled and disappeared.Shion for once was speachless stuck in amazement that move was completly awesome he thought.
"Now you all try." the teacher sat trying to catch his breath.The class tried to get the jutsu but most were stuck on how to first change their shuriken.
Shion knew better to do this jutsu, the Shuriken dosen't change you change into a shuriken then make a clone to throw the shuriken along with you hidden in the shadow,its a pretty complicated jutsu Shion sat down and thought about it.How did this overrated guy do it so effortlessly if he had turned into a clone theres no way we wouldnt have seen he thought."hmm teacher i have to go to the washroom" Shion asked."Just hold it Shion this is important you want to make gennin soon" the teacher insisted."But i really gotta go sensai" he insisted. "Fine go,but hurry up" the teacher agreed. Shion ran out of the room "ahh these kids and there weak bladders haha" he said laughing to himself."i gotta remember hes just a kid even if his skills are beyond that" Shion came back in the room about 10 minutes later.
"Nice of you to join us Shion are you ready to get to work now"Ishida inquired "hummph" Shion said smiling, "Go DEMON WIND SHURIKEN" he said and threw the blade at his sensai "huh" the teacher said being on the other end of a flying shuriken.But it was a simple thing to dodge.
The teacher evaded it easilly then noticed that another one was coming but not fast enough to do damage he simply ducked it.
Nice Shion he thought as the clone disapeared after throwing it.Shion appeared behind the teacher and tapped him on the shoulder with a big smile"So whats next" he asked."Nice Shion maybe you would like to tell us how you figured it out" sensai asked."Well i would but i would rather talk to the teacher then his clone" he said."Hahaha" poof the clone disappeared and the teacher appeared as the chair."So you really did figure out how it works" the teacher said."Yep the one teaching has been a clone this whole time I hate to admit it but that is some chakra control you have sensai" Shions respect for the sensai grew another notch this day.