Name:
Suirai (水雷, Water Lightning) Hazuki
Nickname:
Storm Dragon
Age:
25
Gender:
Male
Rank:
Jounin :: Medic
Village:
The Village Hidden In the Clouds
Elements:
Lightning, Water And Storm
Special Traits:
Sensory Nin
Kekke Genkai:
The Storm Release (嵐遁, Ranton) jutsu are techniques that seemingly combine lightning and water-based chakra to create bright beams of electricity that can flow like water. These beams seem to have explosive properties. In the manga, Darui is the only known user, however in Naruto Shippūden 3: Inheritors of the Will of Fire, Hiruko has acquired the Kekkei Genkai using his Chimera Technique.
Personality:
Suirai is typically a laid-back individual, and did not get himself involved in things unless necessary, he has also acquired a habit of attempting to end things peacefully, and does what he can to avoid bloodshed amongst his allies and his enemies. Despite this Suirai has no hesitation in completing missions that require killing and can be called vicious in terms of how he kills.
Appearance: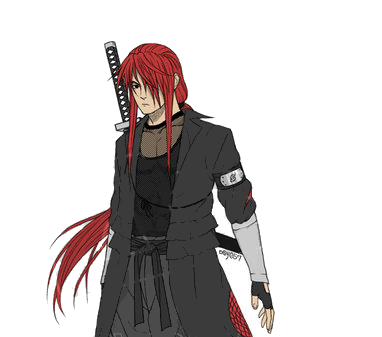 Bio:
Early Arc: Suirai was born in the great Cloud village in the land of lightning, Suirai was born in the Storm release clan of the land of lightning, he was the son of one of the most powerful shinobi in the cloud village no less so Suirai was expected of great things when he grew up
Academy Arc: Suira went through the cloud village's ninja academy a regular student, but he did not get much friends mostly because he kept t himself, as the years passed the rest students soon began picking and making fun at him because he was sort of strange not talking to anyone it even went as far as after school a gang of them decided to beat him up while he was walking home but that was a major mistake. Suirai took them all on and beat them to a pulp, and after that day everyone stopped messing with him even fearing him.
Genin Arc: At the Age of 12 Suirai graduated from the Ninja academy and was placed in a squad and during one of the squads regular training sessions Suirai realized that he had a strange ability of sensing chakra, it was after wards his Sensie explained to him that Suirai was a sensory type ninja, fortunately for Suirai his Sensei was also a Sensory nin which made it quite convenient for training. Suirai and his team entered the Chuunin exams when they were all 15 years old, during the exams they faced many ninja from other villages and but through will power and skill they all passed Suirai in particular who reached the final round in the 3rd exam.
Chuunin Arc: After the Chuunin Exams Suirai became a Chuunin and was well respected among the villages because he reached the final round and won it, Suirai would continue his ninja career as a Chuunin for three more years before he was promoted to Jounin
Jounin Arc: At the age of 18 years old exactly on his birthday Suirai became a Jounin and has been acting as such to this present day
(Short Bio cause im lazy)